Ref:
Date:
Location:
Photographer:
Ref:
Date:
Location:
Photographer:
Profile
Hello and welcome to my site.
Following a diploma in fine art and design I was delighted to be accepted to train in iconography with the
Prince's School of Traditional Arts
on their four-year diploma in icon painting & wall painting. This was part of their Liturgical Arts Programme where I had the privilege of being taught by the iconographer
Aidan Hart.
I am a member of The British Association of Iconographers and over the years I have been trained by a number of icon 'writers' in both the Greek and Russian traditions:
- Annie Shaw
- Sister Esther
- Father Iakobus from Mount Athos
- Aidan Hart
- Efrem Carrasco
I aspire for my icons to glorify God and to convey some of His beauty. I love working with natural materials and 'writing' both Byzantine icons and contemporary icons. In making the icons I use 23 to 24 carat gold leaf with traditional painting methods using egg tempera and natural pigments on gessoed wooden panels, canvass, vellum, and stone.
Our Lady of the Don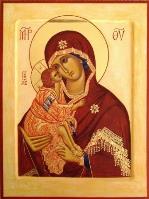 16th Century, 23 3/4 & 24 carat gold and egg tempera on gesso panel
Copyright © Susan Pangburn 2013